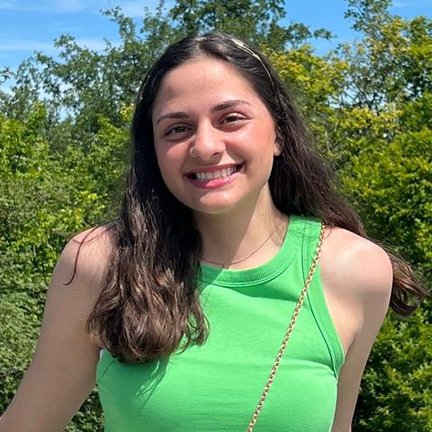 Graduate Student, Electrical Engineering
Joudi Hajar
I'm a PhD candidate in Electrical Engineering, and I joined Caltech as an EAS Chair Scholar. I'm humbled to be the inaugural recipient of the Elachi Fellowship, established in 2023 by the 8th Director of NASA JPL (2001-2016), Charles Elachi, and his wife Valerie. Before coming to the U.S., I completed an MSc in robotics and control at ETH Zurich, and a BE in ECE at the American University of Beirut. I enjoy researching optimal control theory and looking for cool applications in autonomous driving. As my advisor, Professor Hassibi, says: "control is like life; given your past, you take actions in the present and make decisions that influence the future, but... the future is unknown. What to do?" If you're like me, you'd follow the regret-optimal control strategy, and you would design yourself as a partially memoryless system - your output matrix should be sparse!
Graduate Student, Applied Physics and Materials Science
Zachary Ahmad
I am a G1 pursuing a PhD in Materials Science in Katherine Faber's lab. In my current project, a collaboration with NASA's Jet Propulsion Laboratory, I am excited to develop new methods of additive manufacturing via reaction bonding of dense, high-temperature materials for space exploration. Pursuing a PhD at Caltech offers a unique environment for me to support diversity and equity in the next generation of scientists and engineers. As a first-generation student from a rural background, it is important for me to use the many resources available at Caltech to advocate for and reach out to underrepresented communities in STEM fields. With these goals in mind, I serve on the Board of Directors for the GSC; the EAS Committee on Diversity, Equity, and Inclusion; PRISM's Leadership Team, and Caltech's Health Committee. When not pursuing these efforts, I enjoy spending time with friends and playing guitar and piano.
Undergraduate Student, Computer Science
Gabriella Twombly
I'm a third-year undergraduate from Weston, FL pursuing Computer Science with a minor in Information & Data Science. My interests lie in machine-learning and data analytics. Throughout my time at Caltech, I've explored intersections between CS and other areas of science by participating in planetary and economics research. I've also explored predictive analytics in gene sequencing devices through my last internship and look forward to continuing my work in industry as a software engineer. I serve as the UG Academics and Research Committee Chair and VP of Academic Affairs on ASCIT where I've been spearheading the organization of the 2023 Student-Faculty Conference. As a committee, the ARC has focused on supporting students and faculty with the transition to in-person academics and the renewal of student-faculty relations. My hobbies include playing on the Caltech intercollegiate women's volleyball team, mentoring through the Caltech Y, and checking out the surrounding areas like downtown LA.
Undergraduate Student, Computing and Mathematical Sciences
Emile Anand
I am a fourth-year undergraduate student from Dubai, UAE, majoring in Computer Science. My research interest lies in complexity theory, where I am currently studying the pseudo randomness of expander random walks using Boolean Fourier analytic methods with Professor Chris Umans. I am also interested in online convex optimization and online algorithms for reinforcement learning, which I work on with Professor Adam Wierman in the Rigorous Systems Research Group. Currently, I am also the head TA for CS 155 (Machine Learning and Data Assimilation). In my free time, I enjoy playing the piano, going for runs, and writing blog posts.
Graduate Student, Applied Physics and Materials Science
Sara Gorske
I am a G3 in materials science in Professor Katherine Faber's lab, where we work on interdisciplinary research topics in the field of ceramics. Currently, I study brittle fracture mechanics and the role of microstructure in determining crack paths. My other research interests lie at the intersection of art and science, specifically the impact of chemical and mechanical deterioration on the lifetime of artistic and archaeological artifacts. Outside of research, I am also a professional yoga instructor, a runner, and a poet. I recently published my debut chapbook of poems, 'I Left a Piece of Me in a Dream and Now I Don't Fit Together Anymore,' through Bottlecap Press, which is a collection of works I wrote during my graduate endeavors so far.
Undergraduate Student, Mechanical and Civil Engineering
Aiden Swann
I am a senior undergraduate studying Mechanical Engineering and Control and Dynamical Systems. My research interest lies in using elegant mathematics, machine learning, and mechanical innovation to build dexterous robots which can accomplish human-like tasks. I am especially interested in how reinforcement learning can be further extended with theoretical guarantees and physics-based frameworks. In my research at Caltech, I have developed safety guarantees to improve the safety of quadrotors. I was a member of the 2022 NASA Big Idea team here at Caltech which developed LATTICE, an innovative cable-based lunar transportation framework that was awarded the most innovative concept by NASA. I am grateful to have such incredible support and opportunities throughout my time at Caltech. In my free time I love photography, racing quadrotors, and spending time on the beach.