Vibrations Newsletter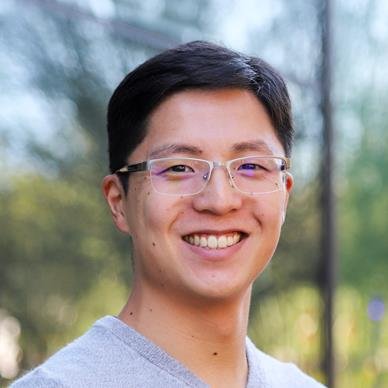 Graduate Student, Computing and Mathematical Sciences
Christopher Yeh
I am a G2 in CMS studying machine learning. My main research focus is multimodal representation learning, which involves designing neural networks that can process many types of data at once. As part of my Ph.D., I am also trying to build a community of machine learning researchers who care about environmental sustainability applications, such as using reinforcement learning to reduce carbon emissions in the electricity grid. Although I was born and raised in Southern California, I still find so much to explore around Pasadena and the broader Los Angeles area. I enjoy hiking, camping, biking, skiing, volleyball, ultimate frisbee (go Aftermath!), as well as playing cello in the Caltech Orchestra. If you see me around, ask me about my trip to a remote Alaskan island or my weeklong homestay on a rural Chinese tea farm. Also, I am co-chair of the GSC Sustainability Committee, so if you have any ideas on how to make Caltech a more sustainable environment, let me know!
Postdoctoral Scholar, Applied Physics and Materials Science
Sophie Hermans
Hi everyone! My name is Sophie Hermans and I joined the group of Professor Andrei Faraon on the 1st of June. In my time here as a Postdoc, I will work on single Ytterbium atoms doped in a YVO4 host crystal for quantum information and communication purposes. That should allow for some cool experiments! Before I joined Caltech, I completed my PhD at the Delft University of Technology in the Netherlands. During my PhD, my colleagues and I realized the first quantum network by using nitrogen-vacancy centers in diamond, and we also teleported quantum information across the network. Outside of research, I enjoy doing outreach. Apart from it being fun, I think it is good to explain our research to all sorts of audiences. I hope I can continue this effort here at Caltech! In my spare time, I like to play basketball and I am a big fan of board games. (Photo credit: Inge Hoogland voor Faces of Science/NEMO Kennislink)
KNI Postdoctoral Scholar Research Associate
Ivan Maliyov
I received a BS in Applied Physics from the Physical Technical Faculty of V. N. Karazin Kharkiv National University in Ukraine. Then, I obtained an MS degree in Nanosciences from École Polytechnique and Univérsité Paris-Saclay in France. With a double-diploma program, I also received a MS in Medical Physics from V. N. Karazin Kharkiv National University, Ukraine. I obtained a PhD degree in Condensed Matter Physics from Univérsité Paris-Saclay, France in 2019. Starting in December 2019, I joined Caltech as a Postdoctoral Scholar in Professor Marco Bernardi's group. My current research focus is the electron transport and ultrafast dynamics in the presence of external fields in complex materials within the Boltzmann transport equation formalism and time-dependent density functional theory. In my free time, I play the clarinet in the Caltech Symphonic Orchestra and piano in a Caltech Chamber Music ensemble.
Subscribe to Vibrations, the Newsletter for the Caltech EAS Community.