Alumni
An E&AS Who's Who
Recipients of the Caltech Distinguished Alumni Award
We realized a while back that nowhere has the Engineering and Applied Science Division collected and published the names of all of its Distinguished Alumni. The Distinguished Alumni Award is the highest honor the Institute bestows upon an alumnus/a. It is in recognition of extraordinary achievement in business, community, and professional life, and may be acknowledging a particular achievement of noteworthy value, a series of such achievements, or a career of noteworthy accomplishment.
The award was initiated as part of Caltech's 75th Anniversary celebration in 1966. Nominations are made by a joint faculty-alumni committee and confirmed by the Board of Trustees; the awards are presented at a ceremony during Caltech's annual Alumni Seminar Day.
So, here they are.We salute each and every one. Their contributions reflect well on Caltech and the Division, and they deserve wide recognition among their fellow alumni and the larger community. Kudos!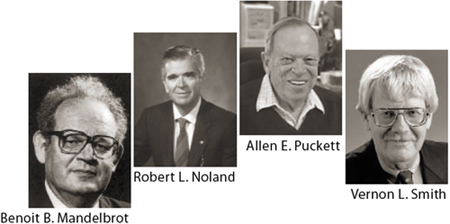 A note on the listing: The E&AS recipients are listed alphabetically by decade of first Caltech degree. The year in parentheses just after the name is the year the Distinguished Alumni Award was received. The title below the name reflects the position the person held at the time the award was given. (d) indicates the person has passed away.
1920s
James Boyd (d) (1966)
President, Cooper Range Company
BS 1927 Eec

Richard G. Folsom (d) (1966)
President, Rensselaer Polytechnic Institute
BS 1928 ME,MS 1929 ME, PhD
1932 ME

W. Morton Jacobs (1971)
President and Executive Officer,
Southern California Gas Company
BS 1928 ME
Mark Serrurier (d) (1981)
Retired.Worked on the design ofthe 200 inch telescope at Mt. Palomar; assisted with continuing development and modernization of the "Moviola" used for film editing, received an "Oscar" for this work.
BS 1926 CE
---
1930s
Horace Babcock (1994)
Director Emeritus, Observatories of
the Carnegie Institute of
Washington
BS 1934 CE

Francis H. Clauser (1966)
Academic Vice Chancellor,
University of California, Santa Cruz
BS 1934 Ph,MS 1935 ME,
PhD 1937 Ae

Trenton R. Dames (d) (1993)
Co-founder, Dames and Moore
BS 1933 CE,MS 1934 CE

Frank W. Davis (1968)
President, Fort Worth Division,
General Dynamics Corporation
BS 1936 ME

Louis G. Dunn (d) (1974)
Retired
BS 1936 Ae,MS 1937 ME,MS 1938
Ae, PhD 1940 Ae

Warren E. Fenzi (1977)
President, Phelps Dodge
Corporation
BS 1937 CE

Arthur T. Ippen (d) (1970)
Ford Professor of Engineering,
Massachusetts Institute of
Technology
MS 1935 CE, PhD 1936 CE

John G. McLean (d) (1970)
President, Continental Oil
Company
BS 1938 APh

John R. McMillan (d) (1980)
Chairman of the Board, Reserve
Oil and Gas Company, Los
Angeles, California
BS 1931 ME

William W. Moore (1993)
Co-founder, Dames and Moore
BS 1933 CE, MS 1934 CE


Walter H. Munk (1966)
Associate Director, Institute of
Geophysics and Planetary Physics, University of California, San Deigo
BS 1939 APh, MS 1940 Ge

Bernard M. Oliver (d) (1972)
Vice President, Hewlett-Packard
MS 1936 EE, PhD 1940 EE

John R. Pierce (1966)
Executive Director, Research
Communications Sciences Division, Bell Telephone Laboratories
BS 1933 EE,MS 1934 EE,
PhD 1936 EE

Louis T. Rader (1966)
Vice President, General Manager,
Information Systems Division,
General Electric Company
MS 1935 EE, PhD 1938 EE

L. James Rainwater (d) (1976)
Professor of Physics, Columbia
University
BS 1939 APh

L. Eugene Root (d) (1966)
President, Lockheed Missiles and Space Company
MS 1933 ME,MS 1934 Ae

William R. Sears (1988)
Professor, Aerospace and
Mechanical Engineering, University of Arizona
PhD 1938 Ae

Hsue-Shen Tsien (1979)
Chairman, Institute of Mechanics, National Academy of Science, Beijing, China
PhD 1939 Ae

Victor V. Veysey (1976)
Assistant Secretary for Civil Works, U.S. Department of the Army
BS 1936 CE
---
1940s
Mihran S. Agbabian (2000)
Fred Champion Professor Emeritus of Civil Engineering, University of Southern California
MS 1948 CE

William F. Ballhaus (1978)
President, Beckman Instruments, Inc.
PhD 1947 Ae

Arthur E. Bryson, Jr. (1991)
Pigott Professor of Engineering,
Department of Aeronautics and
Astronautics, Stanford University
MS 1949 Ae, PhD 1951 Ae

William J. Carroll (1996)
Vice Chairman, Board of Directors, Montgomery Watson, Consulting Engineers, Inc., Pasadena, CA
BS 1948 CE,MS 1949 CE

Joseph V. Charyk (1966)
President, Communications
Satellite Corporation
MS 1943 Ae, PhD 1946 Ae

Earnest H. Clark, Jr. (1981)
President/Chief Executive Officer,Baker Oil Tools, Inc., BakerInternational Corporation
BS 1946 ME,MS 1947 ME

Julian D. Cole (d) (1971)
Professor and Chairman,
Department of Mechanics,
University of California, Los Angeles
MS 1946 Ae, Eng 1946 Ae, PhD 1949 Ae

Satish Dhawan (1969)
Director, Indian Institute of Science
Eng 1949 Ae, PhD 1951 Ae

Yuan-Cheng B. Fung (1994)
Professor of Bioengineering and
Applied Mechanics, Emeritus,
University of California, San Diego
PhD 1948 Ae

Thomas Hudspeth (1993)
Chief Scientist, Space and
Communications Group, Hughes Aircraft Company
BS 1941 EE

Hassan M. Ismail (d) (1972)
President, Cairo University
PhD 1949 CE

Chia-Chiao Lin (1992)
Institute Professor, Emeritus,
Massachusetts Institute of Technology
PhD 1944 Ae

Paul B. MacCready, Jr. (1978)
President, AeroVironment, Inc.
MS 1948 Ph, PhD 1952 Ae

Richard H. MacNeal (1998)
Chairman and Chief Executive
Officer, The MacNeal-Schwendler Corporation
MS 1947 EE, PhD 1949 EE

Benoit B. Mandelbrot (1988)
IBM Fellow, T. J.Watson Research Center, Abraham Robinson Professor of Mathematical Sciences,
Yale University
MS 1948 Ae, Eng 1949 Ae

Duane T. McRuer (1983)
President and Technical Director, Systems Technology, Inc., Hawthorne, California
BS 1945 ME,MS 1948 ME


Ruben F. Mettler (1966)
President, TRW, Inc.
BS 1944 EE,MS 1947 EE, PhD 1949 EE

John W. Miles (1997)
Professor of Applied Mechanics
and Geophysics, University of California, San Diego
BS 1942 Eng,MS 1943 Ae,MS 1943 EE, AeE 1944 Ae, PhD 1944 Ae

Robert L. Noland (1989)
President and CEO, Ketema, Inc., Odenton, MD
BS 1941 ME

Stanley C. Pace (1987)
Chairman and Chief Executive
Officer, General Dynamics
Corporation
MS 1949 Ae

Robert J. Parks (1992)
Deputy Director, Retired, Jet Propulsion Laboratory
BS 1944 EE

Allen E. Puckett (1970)
Executive Vice President and
Assistant General Manager
Hughes Aircraft Company
PhD 1949 Ae

Eberhardt Rechtin (1984)
President, Aerospace Corporation
BS 1946 EE, PhD 1950 EE

Harold A. Rosen (1976)
Vice President for Engineering,
Space and Communications Group, Hughes Aircraft Company
MS 1948 EE, PhD 1951 EE

Glenn A. Schurman (1994)
Corporate Vice President of Oil
Field Development and Production Operations, Chevron Corporation
MS 1946 ME

Vernon L. Smith (1996)
Regents' Professor of Economics, Department of Economics, University of Arizona
BS 1949 EE

Douglas C. Strain (1986)
Vice Chairman, Board of Directors, Electro Scientific Industries
BS 1948 EE

Kiyo Tomiyasu (2002)
Consulting Engineer, Lockhead Martin Corporation
BS 1940 EE

Max L. Williams, Jr. (1995)
Dean, Emeritus, School of Engineering, University of Pittsburgh
MS 1947 Ae, Eng 1948 Ae,
PhD 1950 Ae

Thornton A. Wilson (d) (1968)
Executive Vice President, Boeing Company
MS 1948 Ae

Abe M. Zarem (1969)
Retired, Electro-Optical Systems
MS 1940 EE, PhD 1944 EE
---
1950s
Moshe Arens (1980)
President, Cybernetics, Inc.
Savyon, Israel
MS 1953 ME

Frank Borman (1966)
Colonel, United States Air Force
MS 1957 Ae

Richard D. DeLauer (d) (1985)
President, Orion Group Ltd.
Eng 1950 Ae, PhD 1953 Ae

James E. Hall (2001)
President, Chaparral Cars Incorporated
MS 1957 ME

Steingrimur Hermannsson (1986)
Prime Minister, Iceland
MS 1952 EE

Anthony J. Iorillo (1990)
President, Space and Communications Group, Hughes Aircraft Company
BS 1959 ME,MS 1960 Ae

Jack L. Kerrebrock (1997)
Richard Cockburn Maclaurin
Professor of Aeronautics and Astronautics, Massachusetts Institute of Technology
PhD 1956 ME




Max V. Mathews (1989)
Professor of Music (Research),
Stanford University
BS 1950 EE, BS 1950 ME

H. Edwin Reinecke (1969)
Lieutenant Governor, California
BS 1950 ME

George E. Solomon (1983)
Vice President and General
Manager, Electronics and Defense, TRW, Inc.
MS 1950 Ae, PhD 1953 Ae

Alvin W. Trivelpiece (1987)
Director of Office of Energy Research, U.S. Department of Energy
MS 1955 EE, PhD 1958 EE

Donald L. Turcotte (1999)
Professor of Geological Sciences, Cornell University
BS 1954 ME, PhD 1958 Ae
---
1960s
Robert W. Bower (2001)
Professor, University of California, Davis
MS 1963 EE, PhD 1973 APH

Milton M. Chang(2002)
Chairman of the Board, New
Focus, Inc., Santa Clara, CA
MS 1965 EE, PhD 1969 Eng

Robert W. Conn (1998)
Dean, School of Engineering and Walter J. Zable Professor of Engineering, University of California, San Diego
MS 1965 ME, PhD 1968 ES

James J. Duderstadt (1989)
President, University of Michigan
MS 1965 ES, PhD 1968 ES

Philip Mwangi Githinji (1993)
Vice Chancellor, Kenyatta University
MS 1961 ME, Eng 1963 ME

Robert Merton (1999)
John and Natty McArthur
University Professor
Graduate School of Business
Administration, Harvard University
MS 1967 AMA


Roddam Narasimha (1986)
Director, National Aeronautical Laboratory, Indian Institute of Science
PhD 1961 Ae

Navin C. Nigam (1991)
Director (President), Indian
Institute of Technology, Delhi
PhD 1967 CE

Ozires Silva (1992)
Minister of Infrastructure, Brazil
MS 1966 Ae

Ivan E. Sutherland (1985)
Vice President, Sutherland, Sproull, and Associates, Inc.
MS 1960 EE

Charles R. Trimble (1995)
President and CEO, Trimble Navigation
BS 1963 Eng,MS 1964 EE


---
1970s
Yoshiaki D. Hagiwara (2000)
Assistant to General Manager,
Sony Corporation, Atsugi
Technology Center
BS 1971 Eng,MS 1972 EE,
PhD 1975 EE


Henry C.Yuen (1999)
Chief Executive Officer
Gemstar Development Corporation
PhD 1973 AMa
---
1980s
Arati Prabhakar (1995)
Director, U.S. National Institute of Standards and Technology
MS 1980 EE, PhD 1985 APh

---
Visit Caltech's Alumni Association website at: www.alumni.caltech.edu